11
« Last post by TahoeBlue on Today at 11:24:53 AM »
Again similar to Scientology or Est which seem to enjoy trauma based programming ...

It is also interesting that Vancouver Canada was also the area used for MK-Ultra LSD studies back in the late 1950's

https://www.timesunion.com/local/article/State-scrutinizing-research-of-doctor-associated-12296176.php
State scrutinizing research of doctor associated with NXIVM
Doctor's experiment calls attention to standards, oversight
By Brendan J. Lyons Updated 11:56 pm, Saturday,
October 21, 2017
HALFMOON —
A physician who allegedly conducted human brain-activity experiments on people associated with the NXIVM corporation has apparently not published a scientific study in years and there is no indication his private research was being overseen by an independent review board
, according to a medical expert and records of the National Institutes of Health and U.S. National Library of Medicine.
The state is
examining the unusual research conducted by Dr. Brandon B. Porter, who abruptly resigned from his job at St. Peter's Hospital in Albany this week and has been associated with NXIVM for many years.
The state Health Department initially brushed off a
complaint filed in August by a Vancouver, British Columbia, woman who was associated with NXIVM and said she was traumatized from a bizarre experiment in which Porter showed her videos depicting graphic violence in August 2016.
On Wednesday, the office of Gov. Andrew Cuomo said it was reviewing the Health Department's handling of the complaint.
NXIVM has acknowledged it has conducted human research studies, including for treatment of Tourette's syndrome,
although it's unclear that any of the studies sanctioned by the company have been published or peer reviewed.
...
The IRS filings indicate the non-profit,
Ethical Science Foundation, was funded at least in part by donations from Clare W. Bronfman, an heiress of the Seagram Company business empire
who has described herself as
the operations director of the NXIVM corporation.
A 2015 IRS form filed by the non-profit listed its "charitable activities" as "Tourettes study — studying the effects of a specific and innovative method has on individuals with Tourettes syndrome and obsessive compulsive disorder." The 2015 tax form said its expenses were $32,620.
...
The Vancouver woman, Jennifer Kobelt, 28, said the experiment she was subjected to last year
— which had no apparent connection to Tourette's syndrome — took place in
a small commercial building in Halfmoon that has been used for years by NXIVM for training and seminars.
Kobelt said she was recruited for the study by an assistant of Nancy Salzman, who is NXIVM's president, and that she knew of at least four other women who took part.
Kobelt said she was not told what the study was for or what would take place, and that she was
not asked to sign any documents indicating she had been informed what the study was about and consented to take part.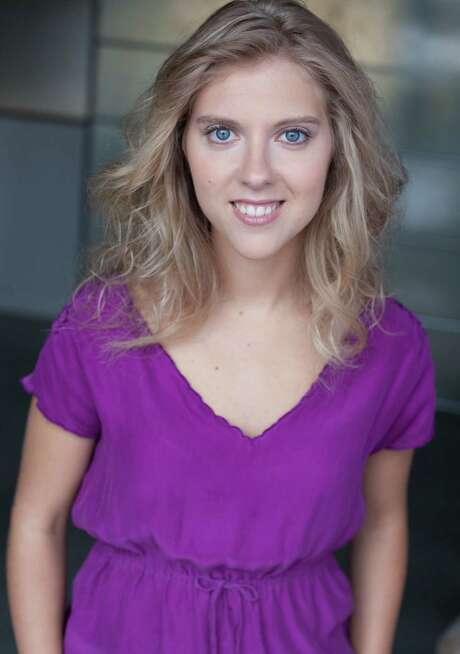 Jennifer Kobelt (Photo provided by Jennifer Kobelt)
Porter drove Kobelt to the building that day, she said,
hooked her up to an EEG machine that monitors brain activity and showed her terrifying images and videos of murder, rape and mutilation.
She described her ordeal to the Times Union this week and also detailed her experience in a complaint that she filed with the state Department of Health earlier this summer.
...
Porter's research on Kobelt and other women involved with NXIVM may be subject to ethical rules governing scientific research
, according to medical experts.
Kobelt said that Porter routinely monitored the brain activity of her and other women, usually while they were taking part in NXIVM-related "personal development trainings."
...
NXIVM issued a statement on its website this week defending its practices in the wake of a New York Times story about Porter's experiment
and
a secret women's group within NXIVM in which another doctor branded female participants with the initials of NXIVM's founder, Keith Raniere, and a NXIVM associate, Allison Mack.
...
According to information referenced in a
complaint filed with the state by Sarah Edmondson of Vancouver, at least 20 women associated with NXIVM were lured into the club.
The participants were
required to provide some sort of damaging "collateral," such as a nude photo or a dark revelation from their past, in order to become part of the club, she said.
...
Edmondson and another woman involved with NXIVM told the Times Union that they were brought into the club and subsequently
branded by Roberts, who then gave them special bandages and advice on helping the wounds heal.
Edmondson said she was told it would be a "tattoo" and that she only learned weeks later that the brand, which she was told was a Latin symbol for "the elements," was
actually the initials of Raniere and Mack, whom Edmondson's complaint identified as having "started" the secret women's group with Raniere.
...
Edmondson said she contacted State Police, but an investigator told her there was no criminal conduct because the women agreed to be branded.
| - -- -
https://www.cnn.com/2018/04/20/entertainment/allison-mack-arrested/index.html
'Smallville' actress Allison Mack arrested for alleged role in sex trafficking case
By Sandra Gonzalez, CNN
Updated 7:04 AM ET, Sat
April 21, 2018
(CNN)
Actress Allison Mack, best known for her role as Clark Kent's clever confidant Chloe on CW's "Smallville," was indicted on Friday on charges of sex trafficking, sex trafficking conspiracy and forced labor conspiracy, according to a statement released by the Justice Department.
Mack's arrest is related to her alleged involvement with an organization called Nxivm (pronounced NEX-ium), a group that claimed to be a self-help program but was, in reality, a pyramid scheme in which some recruits were exploited "both sexually and for their labor, to the defendants' benefit," according to U.S attorney Richard P. Donoghue.
Nxivm's founder, Keith Raniere, also known within the group as Vanguard, was also indicted on Friday.
...
"As alleged in the indictment, Allison Mack recruited women to join what was purported to be a female mentorship group that was, in fact, created and led by Keith Raniere," Donoghue stated.
...
The allegations
Officials allege that
Nxivm, based in Albany, New York, encourages recruits to pay thousands of dollars for courses to rise through the ranks of the organization and recruit others to do the same.Officials say Mack, 35, is the co-creator of a program within Nxivm called The Source,
which was
targeted toward actors.Mack and Raniere's charges stem
from what officials say were activities that took place as
part of a secret society within Nxivm called "DOS," in which women recruited others under false pretenses to perform sexual acts. Raniere was the sole male in DOS and the leader.Until women recruited others, they were called "slaves." Those who successfully recruited were called "masters."
The indictment claims
many so-called slaves were branded on their pelvic areas using a cauterizing pen with a symbol which, unbeknownst to them, incorporated Raniere's initials.
...
If convicted of the crimes charged, Raniere and Mack each face mandatory minimum sentences of 15 years' imprisonment, and up to life imprisonment.
| - - -
https://en.wikipedia.org/wiki/Allison_Mack
Allison Christin Mack (born July 29, 1982) is an American actress, known for her roles as Chloe Sullivan on the WB/CW series Smallville and as Amanda on the FX series Wilfred.
Allison Mack was born on July 29, 1982 in Preetz, West Germany,[5][6][7] to Jonathan, an opera singer, and Mindy Mack,[6][7] who were in Germany at the time of her birth because Jonathan was performing there. Mack also has a brother named Shannon and a sister named Robyn.
...
She began studying at
Young Actors Space in Los Angeles
when she was seven.[citation needed]
Her first major television role came in an episode of the
WB series 7th Heaven, in which she gained attention playing a teenager who cut herself.
In 2000, she co-starred in the short-lived series
Opposite Sex.
| =- - -
https://en.wikipedia.org/wiki/Young_Actors_Space
Young Actors Space (YAS) was established in 1979 by Diane Hill Hardin and Nora Eckstein in Los Angeles.
Patrick Day took over the school in 2007 with his associate Gilmer McCormick.
Notable alumni
Jessica Biel
Hilary Duff
River Phoenix
Emma Stone
Elijah Wood
https://www.imdb.com/name/nm0206537/
Patrick Day is the Director of Young Actors Space
the original and premier school for young actors having joined it's founders Diane Hardin and Nora Eckstein in 1993. In his tenure at YAS, Mr. Day has taught and worked with literally hundreds of today's brightest young stars. Including but not limited to Shailene Woodley, Emma Stone, Samantha Boscarino, Barry Watson, Zoey Deutch, Dillon Lane, Aly Michalka, Scout Taylor-Compton, Jessica Biel, Lucy Hale, Ryan Wynott, 'Eddie Hassel ', 'Jimmy Jax Pinchak ', Lyndsy Fonseca, Tia Mowry-Hardrict, Tamera Mowry-Housley, Thomas Wilson Brown and many, many more.
| - - - -
https://en.wikipedia.org/wiki/Opposite_Sex_(TV_series
)
Opposite Sex is an American comedy-drama series that aired during Fox's summer 2000 schedule
The series chronicles the life of Jed Perry (Milo Ventimiglia), a
15-year-old boy who moves to Northern California along with his father shortly after the death of his mother.
After enrolling at the prestigious Evergreen Academy,
Jed finds out the school was formerly for girls, and recently became co-ed.
Along with Jed, only two other boys attend the school, Philip Steffan (Kyle Howard) and Cary Baston (Chris Evans)
. The boys run into problems when the girls of the school are resistant to the changes and make it clear that their presence is unwanted.
...
Barry Garron of The Hollywood Reporter described Opposite Sex as a "far-fetched, overly earnest teen-oriented show" that "never manages to overcome its contrived premise and establish real emotional connections."
https://www.youtube.com/watch?v=Ssec5rGIf9U&feature=youtu.be
River & Joaquin Phoenix Family Interview- Part One
https://en.wikipedia.org/wiki/Family_International
The Family International (TFI) is a cult[1][2] that
started in 1968 in Huntington Beach, California, USA. It was originally called Teens for Christ and later gained notoriety as The Children of God (COG).
It was later renamed and reorganized as The Family of Love, which was
eventually shortened to The Family.
It is currently called The Family International.
...
The Family of Love (1978–1981)
The Family of Love era was characterized by international expansion.
In 1976, before the dissolution of The Children of God,[3]
David Berg had introduced a new proselytizing method called Flirty Fishing (or FFing), which encouraged female members to "show God's love" through sexual relationships with potential converts.
Flirty Fishing was practiced by members of Berg's inner circle starting in 1973, and was
introduced to the general membership in 1976 and became common practice within the group.
...
Raised in COG as children
...
River Phoenix, Joaquin Phoenix, Rain Phoenix, and Summer Phoenix: actors, were members of the group (with their sister Liberty Phoenix) from 1972 to 1978. River Phoenix, who died of a drug overdose in 1993, told Details magazine in November 1991 that "they're ruining people's lives."
...
Rose McGowan: film actress, described her TFI childhood in interviews with Howard Stern,[36] and People magazine.
,..
Ricky Rodriguez: subject of the suppressed manual advocating adult-child sexual contact, committed a murder-suicide in 2005
, killing one of the women who raised and allegedly sexually abused him, then himself.
...
Celeste Jones and Kristina Jones: co-authors, along with Juliana Buhring
, of
Not Without My Sister,
an autobiography detailing
extensive abuse they suffered in COG
.[34] This book is used by the organization RAINN as a reference for child sexual abuse victims.
Juliana Buhring: first woman to bicycle around the world[35] and co-author of Not Without My Sister.